The catcher — denoted with a number two on your scorecard — is the game's toughest position. Even at the youth level, the catcher is in the danger zone for foul tips, rough slides into home plate and even errant baseball bats.
With all this physical abuse taken by the number two position, an important set of protective gear is essential in today's play.
It is hard to imagine a time when the backstop player did not wear any gear aside from a regular catchers mitt (not the mattress-style, padded gloves used by contemporary players).
Today, someone squatting behind the plate without the necessary protection is unheard of. No league or team would allow his or her catcher to do so.
Thus, it may be hard to believe that the first catcher to wear protective padding, Hall of Famer Roger Bresnahan, was actually ridiculed when he armored up on Opening Day in 1907.
Back then, catchers were expected to be tough enough to take the abuse without complaint. Bresnahan was heckled loudly for being unmanly and a wimp.
Luckily, he did not give in to the insults because the trend of wearing protection behind the plate during regular games quickly took off.
Quick Look: Top 5 Picks
IMAGE
PRODUCT

Delivers a great median between quality and price
Affordable option
Offers protective and play-enhancing features

VIEW LATEST PRICE →

Layered with lightweight foam
Contains ventilation holes
Approved by the National Operating Committee

VIEW LATEST PRICE →

Delivers a great bundle of equipment at a cost-efficient price
Has adjustable shoulder pads
Delivers a super-customized fit

VIEW LATEST PRICE →

Best for First-Time Catchers

Has an affordable and protective set of gear that is ideal for a first-timer
Adjustable to fit any child
Contains throat protector inside the helmet

VIEW LATEST PRICE →

Premier youth catchers gear set
Made from a stretchable material
Has improved shock absorbing capabilities

VIEW LATEST PRICE →
Choosing the Best Youth Catchers Gear
If your son or daughter is interested in becoming a catcher, you should be thrilled. Aside from the typical mental and physical benefits gained through playing baseball, this position also helps develop leadership qualities, excellent communication and resiliency.
You may be hesitant at their chosen position because catchers require all this extra gear, which means it can be an expensive position to play.
However, with the proper research and knowledge on hand, you can find catcher's equipment that is durable and within an acceptable price range.
Before stepping into your local sports equipment store, you should answer a few preliminary questions first.
The first thing to figure out is whether or not your son or daughter's team already has catcher's gear.
Most Little League and other organized teams have a basic set of catcher's gear available to the players.
As we all know, kids' interest in things can be short lived. If this is the first or second year your child is interested in playing catcher, then having them use the team equipment allows them to get a better feel for the position for no extra cost.
However, if they have been at the position for a few years and have demonstrated a passion for the sport, then buying a brand new set of catcher's gear may be the ideal strategy to galvanize their interest.
Without knowing what you are looking for, shopping for the best youth catchers gear set may be stressful.
The most important traits to look for in this protective equipment are its fit and durability.
Catchers often times have to put on and remove their gear quickly between innings, especially if they are batting.
Not only is fit important for the catcher's overall comfort level, but it allows them to quickly suit up or remove the equipment; this allows them to give their pitcher a few more warm-up throws in between innings. Since catchers and their equipment take so much abuse, durability is also important.
While the most protective and durable sets of catcher's gear may come at a higher price point, they often last longer before needing a replacement. Sometimes it is wise to spend more in order to get the equipment that will last the longest.
Here are some of the top brands and models of best youth catchers gear.
Easton Black Magic Catcher Box Set's Set Review
The Easton Black Magic catcher's set delivers a great median between quality and price. Each piece of gear offers a customizable fit, such as the double back adjustment on the chest protector.
Not only do these features improve the overall fit of the gear, but they also help increase mobility.
The set's protection elements are best presented in the helmet's ABS shell and the chest plate's layered foam padding, which both help reduce impacts across the body.
To improve play, your child will enjoy the steel mask that, while being protective, also offers a wide field of view to see everything going around the bases.
They will also be able to play comfortably, even on hot days because the Black Magic Chest Protector has carefully placed ventilation holes that keep the body cool.
Overall, the Easton Black Magic is an affordable option for catchers of all levels of play. It offers protective and play-enhancing features that promote mobility and comfort during games.
2015 was the last year that the Easton Black Magic was manufactured. However, there are still plenty of reliable vendors, such as Amazon.com or even a local sporting goods store, that will still carry the Easton Black Magic Chest Protector. Its price is often discounted compared to the newer Easton M7.
Easton M7 Youth Catcher Gear Box Set
To replace the Natural, Easton concocted the M7 set of youth catcher's gear. There are many similarities between these sets, but the M7, as the Natural's predecessor, does have some noticeable improvements.
The chest protector is layered with lightweight, but protective, foam. This material is designed to dampen rebounds off the chest, so the ball is less likely to careen off in a different direction.
Numerous ventilation holes have been added to the chest pads to improve the player's comfort levels. It has the same double back adjustment as the Easton Natural.
The M7's helmet uses an identical steel mask to the Easton Natural. Its ABS shelled helmet is approved by the National Operating Committee on Standards for Athletic Equipment, which guarantees it to be safe for use and thoroughly protect your child's head.
The set's leg guards utilize a triple knee design, which is not only extra protective, but also caters to the natural way the legs bend and move, thereby improving mobility.
Under Armour Victory Catcher's Set Review
In the same boat as the Easton Natural, Under Amour's Victory catcher's set for youth players also delivers a great bundle of equipment at a cost-efficient price.
The chest protector has adjustable shoulder pads that offer full upper body protection.
Under Armour's innovation really shines in the chest guard's foam inserts for the throat, sternum and shoulders that give the wearer as much or as little protection as they desire, which delivers a super-customized fit.
To improve comfort, the Victory Set uses an AEGIS Microbe Shield, which repels bacteria and moisture that can build up inside the gear. In other words, it automatically cleans itself!
The helmet boasts a protective ABS shell and I-BAR VISION mask, which does not limit the catcher's view behind the plate.
The Under Armour Victory catcher's equipment is a lightweight, mobile and affordable set. It offers the catcher a comfortable range of movements to make key plays.
Other features, such as the chest protector's foam inserts, improve the player's overall comfort by providing a customized fit.
MacGregor Junior Catchers Gear Pack
For younger players (roughly 5-9 years old), the MacGregor Junior Catcher's Gear Pack provides an affordable and protective set of gear that is ideal for a first-timer that is looking to get behind the plate for their first time.
A lot of catcher's sets that are designed for very young players, as the MacGregor Junior is, use Velcro straps, instead of the traditional buckles or clips, because they are easier for young players to use.
However, these straps are not very durable and can easily come loose during play, which is why the Junior uses clips to secure the chest and leg guard.
Each of these pieces of equipment is adjustable to fit any child within the appropriate age range, which is crucial towards saving you from having to buy a new set of catcher's equipment the following season.
In addition, the MacGregor Junior Catcher's Gear set has a few additional perks, including a 4-inch throat protector inside the helmet and attached shoulder pads on the chest protector.
While the MacGregor Junior may lack some of the high quality materials and designs of some of the other sets listed, it achieves what it was designed for.
It is an affordable, yet solid set of equipment for very young or first-time youth catchers.
Easton Pro-X Catcher's Box Set's Review
While the Easton Natural and Under Armory Victory are great sets of gear, the Easton Pro-X is the premier youth catchers gear set.
Specifically designed for competitive or semi competitive play, the Pro-X offers some of the best features on the market. However, it also has the highest price point.
The interior of the chest protector is made from a stretchable material that offers the tightest fit compared to the competitors.
Its exterior padding has improved shock absorbing capabilities that causes balls to stop dead in their track, preventing the chance of them getting away from the catcher. The leg protectors also offer a tight fit and provide extra protection around the knees.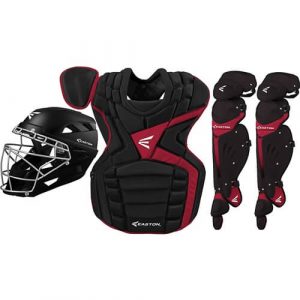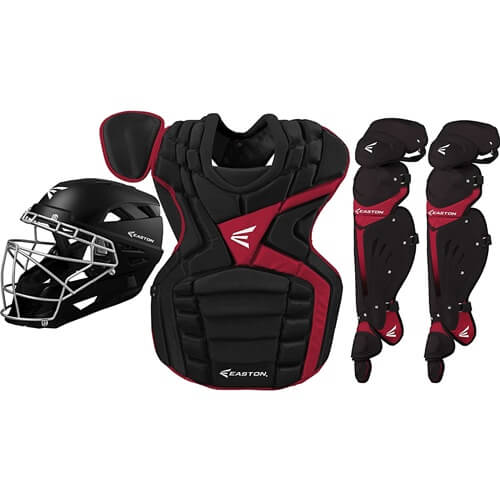 Easton's Rival C helmet completes the set and offers cooling ventilation holes and an ABS shell protection.
With its stretch interior, not only does the Easton Pro-X catcher set offer the best fit, but it also improves mobility.
In particular, the chest protector is specially engineered to allow the catcher to throw the ball with zero restriction. This allows the player to easily gun down a runner attempting to steal a base.
Despite its high price point, the Easton Pro-X is the top of its class. Your son or daughter will experience noticeably better mobility and comfort that will translate into better performance during games.
Mizuno Samurai Catcher's Gear Set
For a slightly cheaper set that offers the edge-gaining advantages of the Easton Mako, look towards the Mizuno Samurai.
This youth catcher's equipment has a variety of adjustable and detachable features that are designed to give the player the exact look, fit and feel that they are looking for.
These features include detachable shoulder guards and kneepads, adjustable jaw guard on the helmet and more.
Similar to the Mako, the chest protector uses the same shock-absorbing padding that helps control ball rebounds off the body.
The leg plates have a triple knee design that helps improve the range of flexibility in the legs. For added comfort around the head, the Samurai catcher's helmet uses three levels of foam padding.
The Mizuno Samurai is slightly edged out by the Easton Mako when it comes to performance and features; however, the Samurai's more affordable pricing makes it a note-worthy option to those looking to gain an edge to their performance, without breaking the bank.
It easily handles competitive and semi-competitive league play while offers play-enhancing features, such as the triple knee design and rebound controlling chest protector.
All Star System 7 Elite Youth Catcher's Set
All-Star Sports makes adult catcher's gears all the way to the top pro levels. What is remarkable about their youth set, such as the System 7 Elite, is that they are designed with the same materials and almost all of the same features as their top-notch adult sets.
That being said, this high-quality catcher's set does come at a steep price and is catered mostly to more experienced players on travel youth leagues.
The System 7 Elite's helmet is lined with mesh that helps wick sweat and cool the player. Its ABS shell has superior impact resistance, so even the hardest thrown ball will not crack the shell or cause the catcher any harm.
The chest protector has a lot of customization options, including a wraparound DeltaFlex harness, adjustable shoulder guards and extra protective plates around the throat, sternum and collar bone. Thus, your entire upper body is securely protected.
The chest plate itself has low rebound memory foam to keep the ball in front of the catcher. The leg guards have a similar number of protective features, like adjustable knee pads.
They are well ventilated and follow the popular triple knee design for improved mobility and protection.
The last noteworthy feature of the All-Star System 7 Elite youth catcher's gear is its color options.
There are many different color schemes to choose from, which means there is probably a set that fits your son or daughter's team colors.
Louisville Slugger Series 5 Catcher's Set
On the other end of the spectrum is the Louisville Slugger Youth PG Series 5 catcher's gear. This set is the most affordable, but lacks the high-performance features of the Samurai and Mako.
Specially designed for beginners, the Youth PG Series 5 makes protection its priority. Double knee guards, high-density foam lining and an over-the-shoulder chest harness offer full-body protection.
However, these features do not have the same adjustable range as many of the competitors, so obtaining a perfect, customized fit may be hard with this set.
One interesting feature is the moisture-controlling chin guard, which blocks the jaw from both balls and sweat.
Overall, the Louisville Youth PG Series 5 is a basic set of catcher's gear. This mean it is highly affordable and meant for beginner players or those new to the position.
It does not have any of the advanced features of many of the competitors, even the Under Armour Victory or Easton Natural.
It is ideal for people who need a cheap set or have a son or daughter just getting interested in the sport.
Wilson E-Z Youth Catchers Gear Review
The Wilson E-Z Gear youth catcher's set is designed, as its name suggests, to be easy. It is marketed towards new, young players that are looking to experience their first inning behind the plate.
While it may lack some of the high-end materials and add-ons, the Wilson-EZ Gear is noticeably comfortable, while maintain protection for the catcher.
Its offered comfort originates from cool air venting, which keeps the young catcher from overheating under the gear.
For protection, the helmet has the same ABA shell that we have seen with most of these catcher's masks.
The mask itself promotes good visibility and is wide enough for a player to wear glasses or sunglasses underneath it.
Again, the Wilson E-Z Gear catcher's set for youth players primary selling point is its E-Z Off / E-Z On closure system, which allows a player to strap up or strip off in under 10 seconds.
This is an important feature, especially if a catcher is last or first up to bat and has to make the chance quickly, before the next half inning starts.
To achieve this incredibly fast change time, the Wilson E-Z Gear uses Velcro straps on many of the pieces, instead of sturdier buckles.
This presents a couple of drawbacks that are worth mentioning. Mainly, Velcro straps are not as durable as the more traditional buckles.
Thus, this gear may not last long or need some repair work done down the road.
Also, since the Velcro components are less secure than a buckle, they may loosen or unsecure during play and need to be tightened.
Boombah DEFCON – for Experienced Players
Even if you have a lot of baseball experience, there is a good chance you have still need heard of Boombah.
That is because they are a direct to consumer equipment manufacturer, which means you cannot find their stuff at the local sporting goods store or in a typical sporting goods catalogue.
While this may make them harder to find, it gives Boombah that ability to sell a very high quality set of catcher's gear for a more affordable price than many of the popular and competing brands.
Comparing the DEFCON youth catcher's set to any of the other top sets and it is easy to see who the victor is.
As far as protection and comfort, the youth DEFCON is pretty much on par.
It has venting holes throughout the set, removable and adjustable interior padding for a customized and comfortable fit, and the pieces are designed not to impede mobility.
That being said, the DEFCON has two things going for it that the competitors do not. We have already mentioned one, the direct to consumer price.
The second is the colors and look of their equipment. While aesthetics do not matter to everyone, it is certainly worth mentioning.
The metallic-looking paint used in the Boombah DEFCON catcher's set has a really impressive look that is only enhanced during a sunny game.
Your son or daughter will look more like a Transformer than a catcher.
Conclusions
Each of these sets of youth catcher's equipment is ideal for different players in different situations.
If you are a competent player behind the plate and have the extra money, than buying a top end Mizuno Samurai, All Star 7 Elite or Easton Mako is a great choice.
They each have tremendously helpful features that will noticeably improve your play and overall comfort at the number two position.
Alternatively, the Boombah DEFCON has many of the same features and is equally protective and comfortable to wear, but has a more affordable price point.
If you cannot afford these premier masks or your son or daughter does not need the bells and whistles, there are a lot of options out there that cater to less competitive youth players such as the Easton M7 or Natural or the Under Armour Victory.
And, if baseball or the catcher position are very foreign to your son or daughter, the Louisville Slugger Series 5, Wilson E-Z Gear and MacGregor Junior are all wonderfully affordable beginner sets that can help teach them how to put on and take off the gear better.
If there had to be a "best" overall set of catcher's gear, Under Armour Victory would most likely take it.
It has almost identical pricing compared to the Easton Natural and some of its innovative features give it a slight edge as well.
In particular, the padding inserts and other adjustable features are great because they provide a customizable fit that the player can make their own.
As mentioned before, fit is vital when it comes to a great set of catcher's gear.
Thus, it is always important that your son or daughter try the equipment on (if possible) before purchasing.
Especially since some of these sets are so close in price and features, the fit may be the deciding factor.