Fastpitch softball is played by all different people and at many levels of play, from youth to professional and everywhere in between. Although female athletes in high school and college predominantly play fastpitch softball, there are several all male or coed fastpitch softball leagues as well.
As such, many people are interested to know what the best fastpitch softball bats are.

Since there are many different styles and approaches to hitting, this can be difficult to determine, even after you have read many different fastpitch softball bat reviews.
To make the task of answering the all important question of what is the best fastpitch softball bat for your individual style and preferences, this page will give you the top 10 fastpitch softball bats that cater to these each of these different approaches to hitting.
Quick Look: Top 5 Picks
IMAGE
PRODUCT

Eliminates bat string for a smooth swing every time
Comparable amount of pop
Excellent bat whip

VIEW LATEST PRICE →

Approved for Play In ASA, USSSA, ISA, NSA and ISF
LS Pro Comfort Grip
Ultra-Balanced swing weight

VIEW LATEST PRICE →

Rotating handle helps on inside pitches
Very reduced price entering 2019
Zero bat sting

VIEW LATEST PRICE →

Ergonomic handle offers lots of benefits
Bat is durable, despite one-sided hitting
Very lightweight and superb bat whip

VIEW LATEST PRICE →

Superior bat whip for high swing speeds
Great vibration dampening for little to no bat sting on the hands
Double Wall Technology offers impressive pop

VIEW LATEST PRICE →
Choosing the Best Fastpitch Softball Bats
Before choosing the best fastpitch softball bat for your unique style, it is important to first have an understanding of what to look for.
This is especially true if you are a younger player or don't have the same knowledge and expertise of a seasoned hitter that knows what to look for in their bats and how to read fastpitch bat reviews. Fastpitch softball bats must have a barrel diameter of 2.25 inches and a length-to-weight ratio of -8 to -13.
Unlike slowpitch softball leagues or high school and collegiate fastpitch baseball, which allow the use of certain wooden bats, fastpitch softball requires players to use either a composite, aluminum alloy or half-and-half (combination of alloy and composite) bat. 
This is mainly due to the size and properties of a softball; they do not enact well with a wooden bat. The choice between fastpitch softball bats usually rests upon the hitter's preferences.
For example, power-hitters almost always prefer a one-piece bat design, over a two-piece hybrid, because one-piece bats are stiffer, resilient and do not flex during the swing (minimal flex increases power and distance).
If you do not already understand your hitting style and favorite type of material and bat design, then it is a worthy investment to spend some time testing out different styles; many batting cages have a pro store that has test models for all of the hottest fastpitch softball bats.
In an effort to represent the wide variety of batting styles and bat preferences, the following list is comprised of best fastpitch softball bats that aim to encompass many of these different approaches to hitting.
While many of the bats described are highly regarded by many hitters and batting experts, your personal opinion may differ.
Especially considering the price tag on some of these top rated fastpitch bats for 2019, you want to be extra certain that your chosen bat is the absolute perfect fit in your hands.
Our Top 10 Picks for Best Fastpitch Softball Bats in 2019:
The following options are all viable choices and represent some of the hottest fastpitch bats on the market.
Rawlings Quatro Fastpitch Bat
One of the primary issues that fastpitch hitters face is bat sting. Any alloy or composite bat is going to cause some amount of painful ringing in the hands.
Not only does this hurt, but it can also damage a player's mentality at the plate. How can you swing freely knowing that there is going to be unpleasant feedback?
Enter the 2019 Rawlings Quatro. The engineers at Rawlings seemingly made this bat to conquer players' bat sting woes.
The Quatro Collar, for which the bat gets its name, is designed to absorb any vibrations and deflect the potential sting.
But Rawlings didn't stop there — they also created the Vibration Dampening Technology (VDT) feature, which further limits vibrations and delivers a consistently smooth feel upon contact.
The Quatro isn't just efficient at handling vibrations; its carbon fiber composite barrel gives the bat the performance and pop that a hitter needs to put drives to the deepest parts of the field. Additionally, it is constructed with Ultimate Flex Tech, which achieves superb whip through the strike zone and an incredibly fast swing speed.
Pros:
Eliminates bat string for a smooth swing every time
Comparable amount of pop
Excellent bat whip
Midrange price
Cons:
Only available with a -9 or -10 length-to-weight ratio
Durability may be an issue
Not having to worry about bat sting is a dream of many batters, especially contact hitters that swing fast and more often than a slugging power hitter. Eliminating that string is a great plus. For a 2019 model bat, its price is fairly average for a bat with these kinds of features. As a new bat, however, its design and technologies are not tested. This means the bat may not be as durable or high performing as the initial claims.
Louisville Slugger LXT Plus Fastpitch Bat
The LXT Plus has an exceptionally light swing weight that is complemented by Louisville Slugger's TRU3 technology, which is a rubber insert at the connection point between handle and barrel.
This actually makes the LXT Plus a three-piece bat. The rubber insert dampens vibrations (to reduce bat sting on the player's hands) and helps redirect the energy of those shockwaves into the barrel of the bat.
| | |
| --- | --- |
| Louisville Slugger 2019 LXT -11 Fastpitch Bat | |
| Louisville Slugger 2016 LXT -10 Fastpitch Bat | |
| Louisville Slugger 2016 LXT -11 Fastpitch Bat | |
You could make an argument that the 2016 Louisville Slugger LXT Plus fastpitch softball bat is actually a four-piece bat because of the S1iD Inner Disc.
This performance-enhancing feature is a small disc placed inside the bat's barrel that aims to improve ball speeds off the barrel of the bat because it fine-tunes the barrel's flex to its absolute maximum index.
Louisville did not stop there; they combined the S1iD Inner Disc with Performance Plus Composite construction and a Zero Friction Double Wall Design.
The resulting explosiveness at the plate will not only wow teammates and opponents alike, but will help build your confidence as a hitter.
Pros:
Low swing weight
Greatly reduces bat sting
Very explosive barrel
Cons:
Price is high, especially for a 2016 model bat
Consumer reviews cite durability issues that hurt bat's pop overtime
It is hard to find fault in the 2016 Louisville Slugger LXT Plus. It needs little break-in time, is approved by all major fastpitch softball associations and is covered for one year by the manufacturer. The only notable drawback is its high-end price point.
If you can afford the quality that the LXT Plus has to offer, then it is a great option. However, other fastpitch softball bats are comparable to this stick, but are more affordable.
Easton MAKO TORQ Fastpitch Bat
What makes the MAKO TORQ so appealing to many hitters is its enhanced sweet spot (one of the largest around) and rapid swing speeds.
The bat's ability to blaze through the strike zone so quickly is thanks to Easton's Thermo Composite Technology (TCT), which not only increases the sweet zone on the bat, but also lowers the amount of resistance experienced during the actual swing.
However, what made hitters really take notice of the Easton MAKO TORQ in 2016 was its 360-degree rotating handle.
This technology acts exactly how it sounds. As you swing the MAKO TORQ, the handle of the bat rotates and allows you to square off against otherwise hard to manage pitches.
| | |
| --- | --- |
| MAKO TORQ Fastpitch Bat (-8) | |
| MAKO TORQ Fastpitch Bat (-9) | |
| MAKO TORQ Fastpitch Bat (-10) | |
Thus, it allows hitters to improve their power to the opposite field by staying inside the ball and improve contact against inside pitches. If you have weak spots at the plate, especially on the inside, the MAKO TORQ may be the ideal remedy.
With all this speed and power, the MAKO TORQ counters potential bat sting with the CXN Technology, which eliminates all vibrations felt by the hands. It is useable in all major fastpitch leagues, including ASA, USSSA and others.
Pros:
Rotating handle helps on inside pitches
Very reduced price entering 2019
Zero bat sting
Cons:
Rotating handle can take some getting used to
Back in 2016, Easton MAKO TORQ's drawback was the same as the Louisville Slugger's LXT Plus; it was pricey.Entering, however, the bat has seen a huge price drop and a lot of vendors will sell it for almost a quarter of its original price.
For a super low price, you get all of the innovative features that come with the newest fastpitch softball bats to improve your performance at the plate.
Axe Bat 2019 Danielle Lawrie (-12)
AXE Bat has partnered with All-American and two-time NCAA Player of the Year, Danielle Lawrie, to create a fast-pitch bat unlike any others to make this list.
AXE Bat is most recognized for their revolutionary changes to the knob of the baseball bat.
The knob of an AXE Bat is curved at the base of a handle, just like an axe handle is. This innovative design helps a hitter master the inside of the plate by improving overall swing mechanics.
Due to the non-traditional handle, AXE Bats have a solitary hitting surface, which means that they are able to shave weight off the back end.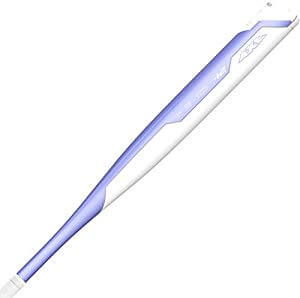 This directional hitting face is reinforced with AXE's LP1 alloy material, which not only aims to maximize the bat's durability, but also adds to its performance.
The LP1 alloy is lightweight and thereby offers a fast swing speed. Add in the solid, one-piece design of the bat and you have a stick with some serious flex and bat whip through the strike zone.
In addition, this speedy bat leverages its axe-like knob to master the inside half of the plate.
Pros:
Ergonomic handle offers lots of benefits
Bat is durable, despite one-sided hitting
Very lightweight and superb bat whip
Extra affordable and 30-day money-back guarantee
Cons:
AXE handle takes some getting used to
Lacks a lot of the performance-enhancing features of other bats
The 2019 Danielle Lawrie AXE Fastpitch Softball Bat carries a 30-day money-back guarantee, which means you can test this different design out with no risk to your wallet.
If you do decide to keep your AXE Bat, you will be happy to know that it is very affordable, which means it is a great choice for the softball hitter on a budget who cannot afford the high-priced DeMarini CF9, Louisville Slugger LXT or other top fastpitch softball bats, but it does lack the many features that many of these bats have.
Mizuno Nighthawk Fastpitch Bat
The balanced swinging 2016 Mizuno Nighthawk Fastpitch Softball Bat has a two-piece, composite design full of performance-enhancing features that any hitter, no matter their skill level or experience, can appreciate and enjoy.
These cutting-edge bat advancements allow the Mizuno Nighthawk to break bread with the likes of the premier MAKO, LXT and other examples of the hottest fastpitch bats from this year and last.
The 2016 Mizuno Nighthawk generates its power thanks to its Double Wall Technology, where a thin polypropylene film separates two individual barrel walls.
This creates a higher flex index in the barrel to maximize the bat's whip through the strike zone, thereby increasing swing speeds, batted ball speeds and improving the overall performance of the bat (and player).
For comfort and protection, Mizuno has introduced their Patented 2-Piece Link Construction. Similar to Louisville Slugger's TRU3 Technology, this elastomeric material rests inside the bat at the connection point between handle and barrel.
The rubber-like properties of the elastic substance allow it to dampen vibrations drastically, even on balls hit away from the center of the barrel.
Overall, this improves the stiff feel throughout the entire bat; some hitting experts have likened the feeling to that of a one-piece bat, but with much more vibration dampening.
Pros:
Superior bat whip for high swing speeds
Great vibration dampening for little to no bat sting on the hands
Double Wall Technology offers impressive pop
Cons:
For batter's looking for the feel of a two-piece bat, this may feel a little too stiff
High price point for a 2016 bat
The 2016 Mizuno Nighthawk (-10) is a competitive option, even when compared to bats like the DeMarini CF9 and others. It has a lot of the same features that give it excellent power, vibration dampening and performance.
For a 2019 model bat, its price is a little steep; you may be better off spending the extra dollars for a brand new model.
COMBAT MAXUM Madison Shipman
With its wide range of models, the 2019 COMBAT MAXUM Madison Shipman offers a lot of options for different fastpitch players. The models range from a heavier -9 length-to-weight ratio, to a much lighter, youth model that has a -13 drop weight. There is even a -9 drop that has an extra long barrel, to reach those outside pitches.
| | |
| --- | --- |
| Combat 2016 Madison Shipman Single Wall 10 Fastpitch Bat | |
| Combat 2019 MAXUM -11 USSSA Baseball Bat: SL9MX211 SL9MX211 | |
The bat has one of the lowest swing weights of any of the MAXUM bats yet to be produced, so it is capable of very impressive swing speeds.
Compared to other COMBAT fastpitch bats, this MAXUM has the largest sweet spot —40% larger, in fact — and is capable of consistently hitting the ball hard and far.
COMBAT bats are known for their durability and zero seams. They are made with Precision Molding Technology, which eliminates any weak points in the stick.
This provides more reliable performance and makes this one-piece composite bat ultra tough and long lasting.
This is the last year that COMBAT is making baseball or softball bats. They have needed to liquidate their inventory.
As a result, their bats, even this 2019 model, are incredibly affordable. You will not find another 2019 fastpitch softball bat with the same high quality and low price.
Pros:
Very durable
Large sweet spot and low swing weight combine for high performance
Ultra low price for 2010 model
Variety of models for different sized/aged players
Cons:
COMBAT is no longer making bats, which may make customer service and returns difficult
The 2019 COMBAT MAXUM Madison Shipman's price, combined with its features, make it one of the best fastpitch bats on the market.
There is no 2019 model bat that has the same number of performance-enhancing features and quality materials, for as little money.
When you add in the fact that there is an option for almost any fastpitch softball player, this bat is a no brainer.
The only drawback is that COMBAT's liquidation of their inventory could cause some problems, in terms of customer service and warranty claims. As of now, the future of COMBAT is uncertain.
Louisville Slugger XENO Plus
Very little separates the Louisville Slugger XENO Plus from its close cousin: the LXT. In price, the bats only differ by $20-50, (XENO being cheaper) depending on where you purchase from, and their included bat technologies are closely matched as well.
The XENO has the same Zero Friction Double Wall Design to increase barrel flex (and ultimately generate more pop).
It also has the same S1iD disc implanted inside the barrel to create absolutely optimal performance and the same Performance PLUS composite material.
| | |
| --- | --- |
| XENO Plus Fastpitch Bat (-9) | |
| XENO Plus Fastpitch Bat (-10) | |
| XENO Plus Fastpitch Bat (-11) | |
In addition, both bats deliver a balanced swing weight (although the LXT Plus is just slightly heavier and favored by power hitters more often). Where the bats do differ is in their feedback reduction.
While the LXT Plus uses its 3-piece design, with the TRU3 connective piece, the Louisville Slugger XENO uses iST Connection Technology.
This new, innovative piece of technology, straight out of the Louisville Slugger laboratory, generates a stiffer overall feel and better energy transfer than the LXT Plus. The XENO is certified for play in every major fastpitch league (ASA, USSSA, NSA, ISA).
Pros:
Lots of pop on contact
Great vibration reduction
Cheaper and more balanced option than the Louisville Slugger LXT
Cons:
Still a high price for a 2016 model fastpitch bat
Stiff feel may not suit all players, especially contact hitters
Little separates the 2016 Louisville Slugger XENO and its counterpart, the LXT. That said, hitters swear by one or the other. It comes down to how they feel in your hands. The XENO may be a little cheaper, but is still an expensive option for a last-year model softball bat.
Yet, its many features make it a very viable option, even compared to brand new, 2019 sticks.
2019 Anderson RockeTech FP
From the knob to the end cap, the new Anderson RockeTech FP (fastpitch) softball bat has one great feature after the next.
This is a one-piece alloy bat that has a drop weight of -9. Its swing weight is end loaded for added power and heft, which means it requires a little extra muscle to swing proficiently.
The AB-9000 aerospace alloy used in the construction of this stick offers unmatched durability.
The barrel of the Anderson RockeTech 2.0 is nearly indestructible. This ensures that the bat will last all season long and then some.
It also allows the bat to not need any kind of break in period; the bat is hot right out of the gate.
The Anderson RockeTech FP's major selling point is in its Internal PowerArch Technology, which aids the multi-wall alloy barrel by including a curved, interior sleeve.
This advancement offers a multitude of benefits to the RockeTech 2.0. Perhaps most intriguing, it maximizes the bat's trampoline effect and speed of batted balls to the legal limit allowed under most major fastpitch leagues' guidelines. It also adds to the already durable aerospace alloy.
Pros:
Very, very durable
Maximum pop allowable
End loaded swing weight adds power to every hit
No break-in time needed
Cons:
Not suitable for smaller, contact hitters
Mid to high price point
Anderson may not be the most recognizable brand name, when it comes to manufacturers of good fastpitch softball bats, but the RockeTech 2.0 has as much going for it as the best DeMarini or Easton stick. Its biggest asset is its incredible durability, which will make the price tag worth the investment when it still has pop over multiple seasons. The maximum allowable pop is icing on the cake.
DeMarini CF9 Fastpitch Bat
Similar to the COMBAT MAXUM Madison Shipman fastpitch softball bat, the DeMarini CF9 has a variety of different models to suit different types of hitters.
There are six different versions, which include three different end load variations, two ultra balanced bats and a youth model.
They range from the heaviest — a -8 drop weight — to the youth model with a -11 length-to-weight ratio.
| | |
| --- | --- |
| DeMarini CF9 Fastpitch (-8) | |
| DeMarini CF9 Fastpitch (-9) | |
| CF9 Balanced Fastpitch (-10) | |
| DeMarini CF9 Hope (-10) | |
| DeMarini CF9 Insane (-10) | |
| DeMarini CF9 Fastpitch (-11) | |
For 2019, DeMarini upped their game and created a more consistent design to the CF9's barrel.
This, if you can believe it, makes the already impressive sweet spot even bigger.
It is also 22% stronger, compared to last year's barrel. Players can be more certain that their bat will last all season and then some.
To improve player comfort, all but one model (the -8 drop weight and end loaded) offers the D-Fusion 2.0 handle technology that has been a favorite feature in DeMarini's top two-piece bats for a couple years now.
As always, it dampens vibrations to reduce bat sting and also helps transfer energy back into the barrel.
Pros:
Has multiple balanced and end loaded options for any hitter
An even larger and more responsive sweet spot than last year's 2016 CF8
Barrel is accordingly 22% stronger than previous years
Cons:
Very expensive price tag
No one-piece options
As we have come to expect from DeMarini, their bats have some of the best features and highest quality materials on the market.
But that comes with a price, literally. While this is one of the most advanced fastpitch softball bats on the list, it is also one of the most expensive ones.
A DeMarini bat is a serious investment for a serious player. If you really want to add some pop to your hits and performances at the plate, this is likely the best fastpitch softball bat to get the job done.
Easton Stealth Fastpitch Bat
This is another stick that comes in a couple different shapes and sizes. For power hitters, there is a bat with a -9 length-to-weight ratio that is also end loaded. The other options have more balanced swing weights and aren't as heavy (drop -10 and -11). Lastly, there is a youth model.
| | |
| --- | --- |
| Stealth Flex Fastpitch Bat (-8) | |
| Stealth Flex Fastpitch Bat (-9) | |
| Stealth Flex Fastpitch Bat (-10) | |
| Stealth Flex Fastpitch Bat (-11) | |
Again, a bat with a lot of options means a lot of different hitters can benefit and use it to their advantage.
The 2019 Easton Stealth uses the same TCT Thermo Composite Technology as the Easton MAKO TORQ, which delivers a big sweet spot, while maintaining the fast and speedy swing speed that any hitter desires.
It also uses the same CXN Zero Technology to dampen and manage unpleasant feedback better. Different from the MAKO TORQ, the Stealth implements Easton's Flex Technology.
This, as you may expect, helps generate more superior flex and bat whip as you swing the bat. More bat whip not only enhances swing speed, but can also help propel the ball farther upon contact. Every model is useable in ASA, USSSA, NSA, ISA and in any other major fastpitch softball league.
Pros:
Different options for both contact hitters and power hitters
Superior bat speed and the Flex Technology improves whip through the strike zone
Hot out of the box; no break-in period required
Cons:
No one-piece options
Some consumers take issue with the bat's irregular sounding 'ping'
The Stealth is very similar to the MAKO TORQ (minus the rotating handle and add the Flex Tech).
The 2019 Stealth has a higher price than last year's MAKO TORQ. So, if the decision falls between these two bats, it really rests on whether the trade off of the TORQ handle for the Flex Tech is worth about a hundred bucks. That said, for a 2019 model, the Stealth has a pretty affordable, mid range price.
What is the Best Fastpitch Softball Bat for You?
Due to the competitive nature of fastpitch softball leagues, the elite bats designed with this level of play in mind can run up a high price tag.
There are more affordable choices available that still have innovative features, particularly 2016 model bats, such as the Easton MAKO TORQ.
Other affordable bats include the 2019 Madison Shipman COMBAT MAXUM and the 2019 Danielle Lawrie AXE BAT (which is an especially great option for the hitter on a budget thanks to its 30-day return policy and extra affordable price).
Saving money is always an appealing avenue. However, when it comes to your performance at the plate, cheap rarely gives you the edge that some of the best fastpitch softball bats can bring you.
Despite its high price point, the best composite fastpitch softball bat is the 2019 DeMarini CF9. It has a variety of models for different levels of play and tons of features to give you that advantage. Its lightest model is also one of the best youth fastpitch softball bats on the market as well.
If you're shopping for high school fastpitch softball bats on an extremely tight budget, then your best option is the 2019 COMBAT MAXUM Madison Shipman because vendors are selling them for ultra low prices due to COMBAT's liquidation of their inventory.
Hopefully, these fastpitch softball bat reviews have helped get you closer to deciding on a new stick and achieving future success at the plate.