The game of baseball is a game of inches. One inch off the plate could be the difference between a strike and a ball. One inch over the fence could be the difference between a home run and a double. One second could mean the difference between safe or out.
Knowing that every second matters, wouldn't you want to purchase the best baseball cleats to give your performance the greatest boost possible?
Whether it is for yourself, your son, daughter, father or whoever, choosing the correct brand of baseball cleats can have a large impact on your performance as an athlete and a ballplayer.
Quick Look: Top 5 Picks
IMAGE
PRODUCT

Best Nike Baseball Cleats

Affordable
Comfortable and hyper durable
Helps enhance breathability

VIEW LATEST PRICE →

Wheels are a lightweight mesh
Offers ultimate comfort
Incredibly responsive

VIEW LATEST PRICE →

Best New Balance Baseball Cleats

Built for speed and comfort
Completely customizable
Promotes breathability

VIEW LATEST PRICE →

Best low-cut/mid-cut cleat

Made of lightweight material
Available with metal or molded cleats
Available in 12 different color schemes

VIEW LATEST PRICE →

Best Under Armour Baseball Cleats

Many different colors and style options
Lightweight
Durable

VIEW LATEST PRICE →
Thus, we will go over some of the largest factors that affect the quality and performance of cleats, before going more in-depth with each brand and what you can expect from their products.There are a lot of different brands out there and choosing the right one is important. A lot of different factors go into selecting the right brand for you.
Material: The material used to make each cleat is unique to each manufacturer. This plays a large role in consumer preference. Material used can often determine the weight and flexibility of the cleat, as well as durability. Some brands hold up better than others, and that is important to know before purchasing.
Position: The position that your ballplayer is playing can also play a role. For instance, middle infielders may prefer lower, lighter cleats, while pitchers may like a ¾ cleat for more ankle support when driving off the rubber. Personal style also comes into play here.
Level of play: Level of play can dictate what type of cleat is selected as well. At some of the lower levels, they may not allow metal cleats, preferring a molded stud which is safer for younger players.  Some brands only manufacture metal cleats, while others cater to all consumers and levels of play. If you have a young player, be sure to check their league's rules to see which type of cleat is allowed.
Now that you know what to look for when choosing the best baseball cleats, here is a list of the major brands, the pros and cons, and recommendations when purchasing.
Nike
In all things footwear, Nike has seemingly been at the forefront since the beginning of time. Their brand awareness in the industry is unrivaled, as is their reliability and style. While being one of the more expensive options, you "get what you pay for" with Nike.
Pros:
Nike's brand has many advantages alone, but the shoes that they produce are second to none. It seems like they are always at the front of every big trend or fad. Because of this, the style of the Nike brand is really what you are getting. The sleekness of every shoe makes it desirable to athletes. Their materials are extremely durable, and they offer tons of different models of cleats for every ballplayer.
Cons:
The only real downside for Nike is the price. At times their cleats get a little high in the price category, but in most cases, the price is worth the product. Because they have such a large market share, most of your cleats will also be worn by other players, so if you are looking to be more individual, this may not be the brand for you.
MLB Players Sporting Nike:
Albert Pujols
Andrew McCutchen
Josh Donaldson
Matt Harvey
Mike Trout
Paul Goldschmidt
Best Nike Baseball Cleats
Nike Huarache 2K Filth Review
When it comes to metal cleats, the Nike Huarache 2k Filth are, arguably, the best baseball cleats money can buy.
These cleats are used by some of the game's top players, including Matt Kemp, rookie sensation Trevor Story, Felix Hernandez, Carlos Gonzalez and many, many more.
As top level cleats, their design is absolutely other-worldly. Nike combined synthetic leather and thermoplastic polyurethane (TPU, known for its elastic properties) for a cleat that provides a form fit that is both comfortable and hyper durable.
The mesh material, throughout the cleats, helps enhance breathability, which aims to eliminate odor and keep your socks dry, even during a hot day game. nNike engineers meticulously studied how baseball players' feet hit the ground during baserunning and fielding.
They used this information to strategically form their nine-cleat configuration to provide optimal traction during play.
Lastly, the Huarache 2k Filth has a phylon midsole design to create an ultra-comfortable cushion on the bridge of your feet.
This also helps keep the cleat lightweight so you can blaze across the base-paths.
It is available in different styles and colors, which helps meet any players preferences, between a high, mid or low top, while simultaneously giving them that extra flair of color.
Nike Lunar Trout 2 Review
No player in the history of baseball has had as good of a first five years in the Majors as Mike Trout.
So, it should come as no surprise that A: he has his own Nike cleat built to his exact specifications and B: said cleats are  pretty terrific.
The hightop of these wheels are a lightweight mesh for improved fit, feel and breathability.
The bottoms of your feet will experience Lunarlon foam, which is a midsole cushioning system that is designed to evenly distribute the impact of every step, for ultimate comfort.
The foam material is also incredibly responsive, giving you explosive potential in the field and on the basepaths.
Adding to this increased propulsion is the Rilsan insert. Similar to the Huarache 2K's, the Nike Lunar Trout 2 cleats feature a 9-cleat bottom that is specifically designed for speed and traction.
If you've ever had the opportunity to watch Mike Trout play, you know that he has incredible swiftness, whether he's tracking down fly balls to the deepest parts of Angel Stadium or swiping second base. Now,  you have an idea of how he makes it look so easy.
New Balance
New Balance has recently gotten into the baseball cleat space, but their product is actually surprisingly durable. The new style mixed with the sleekness of their shoe has allowed them to get some new spunk behind the idea of their brand in the sport.
Pros:
New Balance provides its customers with a great selection for different positions. Between their low top option and their 3/4 style, there is something for every player.
One of the more comfortable shoes on the market, New Balance lives off of providing a quality product at a lower price.
While not being one of the most well-known brands in the baseball industry, they have gained trust from their customers with durability and performance.
Cons:
New Balance has a more standard cleat. If you are looking for all the flair of Nike, you are simply not going to get it here. That can be an issue for some of the more flashy athletes.
MLB Players Sporting New Balance:
David Ortiz
Dustin Pedroia
Evan Longoria
Jose Bautista
Miguel Cabrera
Best New Balance Baseball Cleats
New Balance 3000v3 Review
Available as a low or mid cut, the 3000v3's are some of the finest baseball cleats that New Balance has to offer.
They approached the design as 'a running shoe on spikes.' Thus, the 3000v3 is built for speed and comfort on the bottom of your feet, thanks to the REVlite midsole and heel foam. This material is 30% lighter than other New Balance foams, but remains stable and comfort.
Men's Low-Cut Baseball Cleats
Instead of the 9-cleat pattern that Nike chooses, New Balance uses an 8-spike metal plate that is MLB-proven and laser-etched for unmatched durability and look.
The 3000v3 has a variety of comfort and protective features, including a debris-free tongue, synthetic/mesh neck and an insert in the front of the cleats to protect your toes from balls, unexpected collisions or heavy play.
The mesh materials used throughout the cleats promote breathability and thereby comfort.
The New Balance 3000v3's are completely customizable. Their online tool allows a player to pick the colors of every component of the shoe, from laces to the body.
And, customers can further customize their cleats with their number on the heel, or name inside the tongue of the shoes.
New Balance 4040v3 Review
The 4040v3 is the updated version to the 3000v3. So, it has a lot of the same features and some new ones.
For added comfort over its predecessor, the 4040v3 has a full-length REVlite foam cushion that runs from the heel to the hoes, not just the midsole. Again, this is a lightweight material to keep your feet light and fast on the basepaths.
A lightweight material along the saddle, or sides, of the cleats offer the same breathable properties as mesh, while being supportive, even if you have wider feet.
Another interesting feature in the 4040v3 cleats is the "Drive Zone".
New Balance gave the toe of the cleat a different texture and color to distinguish it as the optimal zone for players to drive from, whether they are taking off for home plate or tracking down a fly ball.
Customization wise, the 4040v3 New Balance baseball cleats don't have quite as many options, although they still are available in 12 different color schemes.
Additionally, you can get the 4040v3 as a low-cut or mid-cut cleat and they are available with metal or molded cleats.
Under Armour
Under Armour first broke into athletic footwear with a line of football cleats, but since that time, they have expanded to baseball, basketball, and casual wear. Through trial and error, their footwear has improved greatly, with some of their baseball equipment modeling after the football styles previously marketed.
Pros:
Under Armour shoes are extremely flexible and provide the athlete with great breathability. Because they are also new to the market, most of the cleats they have available are not exorbitant in price.
Cons:
Because Under Armour is just starting out in this market, there is some trial and error involved. Their material is not the greatest and their cleats in general are not as durable. They offer different styles, but there is nothing to decipher which may be the best for each individual position.
MLB Players Sporting Under Armour:
Bryce Harper
Buster Posey
Clayton Kershaw
Eric Hosmer
Mookie Betts
Best Under Armour Baseball Cleats
Under Armour Harper One Review
Aside from Mike Trout, the one name that always come up in a conversation about young, talented and hall-of-fame destined baseball players is Bryce Harper.
Under Armour's Harper One's are an exceptional piece of equipment that pay homage to a great player. They are one of the best baseball cleats out there.
While they may lack the many different colors and style options (they are only available in black or white, unless you spend more for a limited edition version), the Harper One makes up for it with its design.
The entire saddle and upper of the cleat is one, woven piece, which delivers a lightweight, but protective and durable construction. It fits and feels like a sneaker.
The Charged Cushioning® midsole is paired with a SuperFoam® insole for the absolute best at displacing the energy of each impact, while yielding incredible and responsive comfort.
The front of the cleats are designed with flexible grooves to ensure your toes can still bend to achieve biomechanical perfection.
Under Armour and Bryce Harper opted for the 9-spike plate. Made from TPU material and metal spikes, these cleats are designed to deliver both traction and heightened mobility when explosive acceleration is needed.
Under Armour Ignite Review
When it comes to rubber molded cleats, Under Armour hits it hard with the Ignite. Not only are they affordable, especially compared to metal-spiked cleats, but they have all the features and well-thought design of a high-end cleat.
This starts with the leather and perforated nubuck (cowhide) construction, which marries durability, comfort and breathability together.
For comfort, the ArmourBound® midsole cushions run the entire length of the cleat.
Not only do they provide a nice cushion for your feet, but they help absorb the impact of each and every step across the entire surface of the cleat.
So, no matter if you are walking off the field and in a full sprint for the bag, this design is meant to make it so your feet barely feel a thing.
Despite having molded cleats, instead of metal, the design and configuration of the Ignite's cleats provide for some potentially explosive acceleration and rotational capabilities.
Arguably, this Rotational Traction design of Under Armour's makes the Ignite one of the best molded baseball cleats at turning on a dime and quickly changing directions.
This translates into better traction as you are rounding bases and trying to turn that line drive into a double or triple.
Mizuno
Mizuno may be the only brand on this list whose products are almost entirely made for the baseball/softball athlete. They have been producing in this space for a very long time. Their products are straightforward, stylish, and dependable. Mizuno is made typically for the more advanced athlete.
Pros:
Mizuno is the pro of the pros. Their cleats have great support, are wonderful for positions, and are extremely durable. There is not much that can be said negatively about Mizuno.
Cons:
Mizuno is not a well-known brand. That is the one knock I have with their products. They do not have that name that most young ballplayers are looking for. When they are younger and they think of playing in the big leagues, no one says "I can't wait to strap on my white Mizunos every game in front of 50,000 people."
MLB Players Sporting Mizuno:
Corey Kluber
Hunter Pence
Jose Abreu
Victor Martinez
Yoenis Cespedes
Best Mizuno Baseball Cleats
Mizuno Heist IQ Review
With such a heavy commitment to producing baseball equipment and gear, it stands to reason that Mizuno's cleats are some of the best around; you would be right.
The Heist IQ series of cleats are constructed with a combination of synthetic and mesh and a 3-layer, no-sew design.
This helps give it the breathable, comfortable and durable qualities that you need in a cleat. Inside the Heist IQ cleats is a full-length U4ic midsole that is both lightweight and cushiony. An often overlooked quality of a mid or insole is its durability.
Especially if you play and practice a lot, that soft, cushiony feeling you love can quickly fade.
That's why Mizuno's U4ic midsoles are extra resilient. Perhaps the most interesting feature of the Heist IQ is the cleats themselves.
Mizuno's spikes are a fresh design that aims to enhance the player's speed and turning.
Despite having a thinner profile than most metal spikes, they don't lose any of that valuable traction or grip because of the IQ's flexible outsole.
The Heist IQ cleats are available in 11 different colors and in either a low or mid-cut. If you have wider feet, the Heist IQ is also available in a style specifically designed to accommodate.
Mizuno 9-Spike Advanced Review
When it comes to a universal, low cost, molded cleat, the Mizuno 9-Spike series is one of the best. While its design may appear simplistic (hence the lower price point) there is still a lot going for these cleats.
Remember, Mizuno is known for their baseball and softball equipment.
They can do a lot with a little. Instead of the higher end leather and synthetic combinations, Mizuno used a specially designed rubberized material.
Men's 9 Spike ADV Franchise 8 Molded Cleats
While this may sacrifice some of the luxury of leather, such as its breathability, this material is just as durable and will last all season long.
Inside the cleat is a full-length midsole that offers functional comfort and helps limit soreness in the feet, especially during those late or extra innings.
The 9-spike outsole features rubber studs that are good for all field types and are ideal for leagues that disallow metal spikes.
Mizuno 9-Spike Advanced Pro Elite Metal Cleats
However, there is an Advanced Pro Elite model of these Mizuno cleats that do have metal spikes, which again supports the fact that these are some of the most universal cleats out there. Whether you are a youth player, adult, man or woman, there is a Mizuno 9-Spike Advanced available.
Adidas
Adidas, similar to Reebok, is one of the smaller brands in the market today. They do still produce some viable cleats however. While they are not the best of the best in the baseball market, they do produce some low cost options that may be more suitable for younger ballplayers.
Pros:
Adidas has come to the table with the self-proclaimed "lightest cleat in baseball". That is what they pride themselves on. Most infielders prefer this, thus you see many of their sponsored athletes speedsters.
Cons:
Adidas is coming along, but just like Under Armour they do not have that level of stability yet within the market and, for some ballplayers, that can be a problem. They make almost exclusively one type of cleat, which can be an issue if you are looking for other styles for different levels of support.
MLB Players Sporting Adidas:
Josh Harrison
Kris Bryant
Lorenzo Cain
Mike Moustakas
Best Adidas Baseball Cleats
Adidas PowerAlley 4 Review
Adidas claims that it built the PowerAlley 4 with baseball's next generation in mind. By this they can only mean one thing, they are built for style. Sure, they have a pearlized ProTrax plate to limit the pressure felt on the bottom of the foot.
And, a full-length LiteStrike EVA midsole for even more comfort. However, more impressive than its comfort features or its protective IRONSKIN toe overlay, to reduce abrasion from toe drag, are its style options.
If you thought the Nike Huarache 2K or the New Balance 3000V3 had a lot of customization options, then you probably aren't ready for what Adidas is bringing to the table.
You can choose between different color options for the laces, tongue, heel lining, outer sole, toe cap, Adidas stripes and more.
No matter what your team colors are or your desired look is, the Adidas MI PowerAlley 4 can accommodate.
Aside from colors, Adidas also offers custom logos, so your whole team can have a cohesive look.
You can add your number or initials for greater personalization. And, you can add a printed graphic to the front or rear of the cleats.
With all of these customization options, it is almost like no two PowerAlley 4's are created the same.
Adidas Adizero AfterBurner 2.0 Review
If you are looking for a lightweight, speed-y cleat, then look no further than the Adizero AfterBurner 2.0. Adidas' goal was to shave off weight anywhere they could.
Its construction uses the lightest materials they could use, without sacrificing durability and protection.
Between the pearlized synthetic upper and mesh-anchored heel and tongue, lightweight is the name of the game.
In areas that needed extra support and protection, Adidas used a TPU material.
More lightweight features include the OrthoLite® sockliner, LITESTRIKE EVA midsole (which is specifically designed to be lighter than the midsoles of competing cleats) and the SPRINTFRAME outsole plate.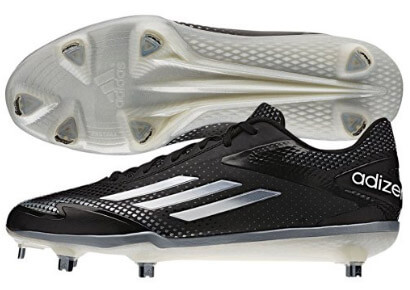 These cleats are made for the base-swiping speed specialist on any team.
And, while these cleats are lightweight, don't think that they won't grip the ground. The waved cleat design maximizes dirt penetration for optimal ground adhesion.
The Adizero AfterBurner 2.0's are available in a variety of color styles.
While they don't have all of the design options of the Power Alley 4's, their solar diamond glow graphic upper will leave a flash behind you as you tear down the basepath.
Best Youth Baseball Cleats
Of the pairs of cleats listed above, the best for youth players would have to be the Mizuno 9-Spike Advanced series.
Mizuno 9-Spike Advanced Youth Molded Cleats
First of all, it is a cost efficient piece of equipment. When it comes to buying youth gear, price is extra important because your son or daughter is going to grow out of the cleats before you know it.
Spending hundreds on a top-of-the-line cleat is superfluous.
Secondly, Mizuno is a great company when it comes to producing quality, protective and functional equipment.
The 9-Spike Advanced cleats are no different. Additionally, because there are so many variations and age-ranges for the Advanced series, they can grow up with the same brand and style of cleat, without having to adapt to a new, different-feeling cleat every time they outgrow the previous pair.
Also worth an honorable mention are the Adidas Wheelhouse 3 cleats. While not included in the list, they are a simple, yet stylish cleat that is super affordable and gets the job done well.
Adidas Kid's Wheelhouse 3 Molded Cleats
Youth players enjoy the digital camo pattern on the inside of the cleat. Their only drawback is they run a little narrow. If your child has wide feet, they may feel stiff.
Lightest Baseball Cleats
Jet planes use their afterburners to provide a sudden increase in thrust, in order to reach supersonic speeds. Thus, the Adidas Adizero AfterBurner 2.0 is hard to beat when it comes to making a lightweight cleat.
Adidas Adizero Afterburner 2.0 Metal Baseball Cleats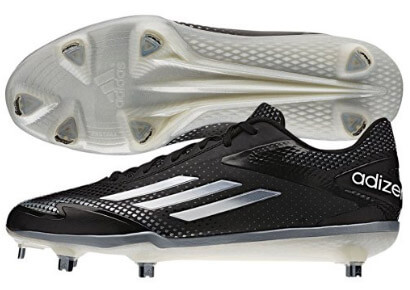 It seems the Adidas engineers did everything in their power to make these cleats the lightest possible. Anywhere there was weight to be lost, without sacrificing too much protection, comfort or durability, they did it.
When it comes to those close plays at the plate, where a couple fractions of a second can make or break you, those small pushes for a lighter cleat can make all the difference between a run and an out.
Considering this, it is hard to choose a runner-up in the category of lightest baseball cleat.
However, as Mike Trout makes a yearly case for being MVP, the Nike Lunar Trout 2 makes a pretty compelling case for the coveted MLC (Most Lightweight Cleat) trophy.
Nike Lunar Trout 2 Metal Baseball Cleats
When you consider that the Lunar Trout 2 was crafted to Mike Trouts specifications and then consider that Mike Trout is a known dealer in stolen bases, extra base hits and seemingly uncatchable putouts, you can make a pretty good argument that the Lunar Trout 2 is built with lightweight speed in mind.
Best Molded Baseball Cleats
Similar to the Best Lightweight Cleat award, this one is a pretty obvious choice for the best molded baseball cleats: the Under Armour Ignite.
Typically, molded cleats have less traction and grip to the dirt, which means it is harder to rotate quickly or gain footing. These are vital to many aspects of the game.
Under Armour Ignite Molded Baseball Cleats
For example, pitches use the spikes of their cleats to drive their foot and generate more velocity on their throws, batters use the cleats to step and turn their hips forward to put extra oomph behind their hits and so on.
The molded cleats of the Ignite have a Rotational Traction engineering that allows the player to move, run and drive their foot as if they were wearing metal cleats.
There isn't much of a runner-up for the best molded cleats.
The Under Armour Ignite really takes the cake. It is hard to compete with molded cleats that feel like the "real," metal spikes. Even beyond the spikes, the Ignite also has a great midsole, good construction and an overall great design.
Cleat of Choice
And with the cleat of choice, the winner is Nike. Nike's excellent combination of style and durability is most likely why so many professional athletes trust them with their performance.
There are not a lot of negatives when looking at Nike's cleats.
The only negative would be the price, as seen in the rankings above.
Even though the price is a little steep, you get what you pay for.
In a way, the cost is worth it for the quality. Their large selection of different styles and supports really gives each individual athlete their choice to pick the shoe that is right for them.
Conclusion
There is a brand out there for everyone. Most people just don't have the inside knowledge of the industry to make an educated decision on what brand of cleat to purchase.
The article above is just one man's opinion, each ballplayer is encouraged to go out, try on different cleats, and see which brand and model really is the right fit for him or her.
Every shoe is not right for everyone, and one size most certainly does not fit all. Depending on your size, position, and personal preferences, you can use the above reviews to pick the brand of baseball cleat that is right for you.
There are a lot of factors that go into that decision, and there really is a large impact on performance.
As stated above, the difference in cleat could make the difference between an average player and a great player or the difference between a run and an out.
Make sure you are properly informed before you make any purchasing decision for sports equipment, no matter the age and level of play.